GCF/B.24/14/Rev.01: Workplan of the Board for 2020 – 2023: Co-Chairs proposal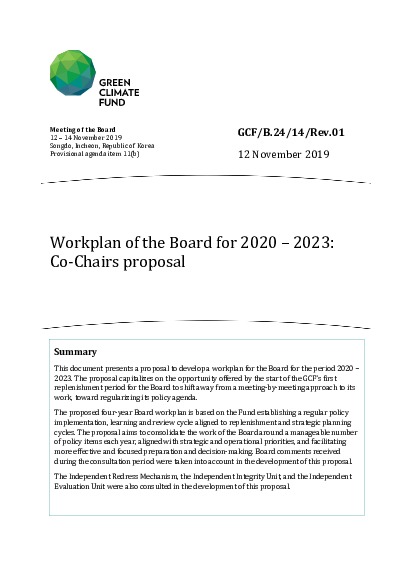 Download
English
|
PDF
|
575.26 KB
GCF/B.24/14/Rev.01: Workplan of the Board for 2020 – 2023: Co-Chairs proposal
This document presents a proposal to develop a workplan for the Board for the period 2020 – 2023. The proposal capitalizes on the opportunity offered by the start of the GCF's first replenishment period for the Board to shift away from a meeting-by-meeting approach to its work, toward regularizing its policy agenda.
The proposed four-year Board workplan is based on the Fund establishing a regular policy implementation, learning and review cycle aligned to replenishment and strategic planning cycles. The proposal aims to consolidate the work of the Board around a manageable number of policy items each year, aligned with strategic and operational priorities, and facilitating more effective and focused preparation and decision-making. Board comments received during the consultation period were taken into account in the development of this proposal.
The Independent Redress Mechanism, the Independent Integrity Unit, and the Independent Evaluation Unit were also consulted in the development of this proposal.
Document symbol
GCF/B.24/14/Rev.01
Cover date
12 November 2019
Table of contents
Co-Chairs proposal for a 2020 – 2023 Board workplan
Recommended action by the Board
Annex I: Workplan of the Board for 2020 – 2023
Annex II: GCF policy cycle for 2020 – 2023
Annex III: Workplan of the Board for 2020–2023