GCF/B.22/17: Synthesis of Board submissions on the update of the Strategic Plan of the Green Climate Fund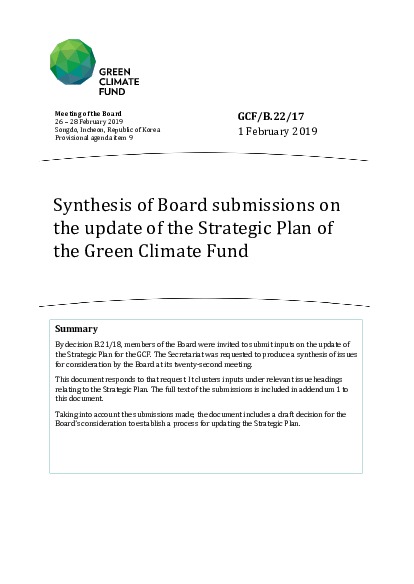 Download
English
|
PDF
|
279.48 KB
GCF/B.22/17: Synthesis of Board submissions on the update of the Strategic Plan of the Green Climate Fund
By decision B.21/18, members of the Board were invited to submit inputs on the update of the Strategic Plan for the GCF. The Secretariat was requested to produce a synthesis of issues for consideration by the Board at its twenty-second meeting.
This document responds to that request. It clusters inputs under relevant issue headings relating to the Strategic Plan. The full text of the submissions is included in addendum 1 to this document.
Taking into account the submissions made, the document includes a draft decision for the Board's consideration to establish a process for updating the Strategic Plan.
Document symbol
GCF/B.22/17
Cover date
01 February 2019