GCF/B.22/11: Procedures and Guidelines of the Independent Redress Mechanism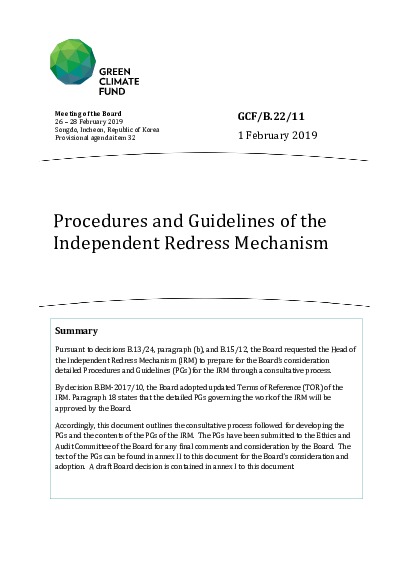 Download
English
|
PDF
|
791.04 KB
GCF/B.22/11: Procedures and Guidelines of the Independent Redress Mechanism
Pursuant to decisions B.13/24, paragraph (b), and B.15/12, the Board requested the Head of the Independent Redress Mechanism (IRM) to prepare for the Board's consideration detailed Procedures and Guidelines (PGs) for the IRM through a consultative process.
By decision B.BM-2017/10, the Board adopted updated Terms of Reference (TOR) of the IRM. Paragraph 18 states that the detailed PGs governing the work of the IRM will be approved by the Board.
Accordingly, this document outlines the consultative process followed for developing the PGs and the contents of the PGs of the IRM. The PGs have been submitted to the Ethics and Audit Committee of the Board for any final comments and consideration by the Board. The text of the PGs can be found in annex II to this document for the Board's consideration and adoption. A draft Board decision is contained in annex I to this document.
Document symbol
GCF/B.22/11
Cover date
01 February 2019