GCF/B.17/Inf.03: Report on the status of the staffing of the Secretariat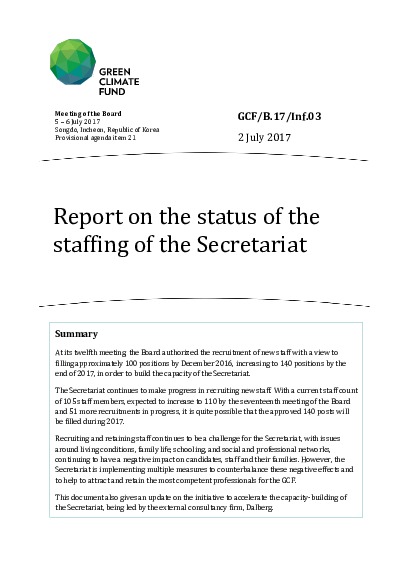 Download
GCF/B.17/Inf.03: Report on the status of the staffing of the Secretariat
At its twelfth meeting, the Board authorized the recruitment of new staff with a view to filling approximately 100 positions by December 2016, increasing to 140 positions by the end of 2017, in order to build the capacity of the Secretariat.
The Secretariat continues to make progress in recruiting new staff. With a current staff count of 105 staff members, expected to increase to 110 by the seventeenth meeting of the Board and 51 more recruitments in progress, it is quite possible that the approved 140 posts will be filled during 2017. Recruiting and retaining staff continues to be a challenge for the Secretariat, with issues around living conditions, family life, schooling, and social and professional networks, continuing to have a negative impact on candidates, staff and their families. However, the Secretariat is implementing multiple measures to counterbalance these negative effects and to help to attract and retain the most competent professionals for the GCF.
This document also gives an update on the initiative to accelerate the capacity-building of the Secretariat, being led by the external consultancy firm, Dalberg.
Document symbol
GCF/B.17/Inf.03