GCF/B.15/20: Workplan and budget for the Independent Integrity Unit for 2017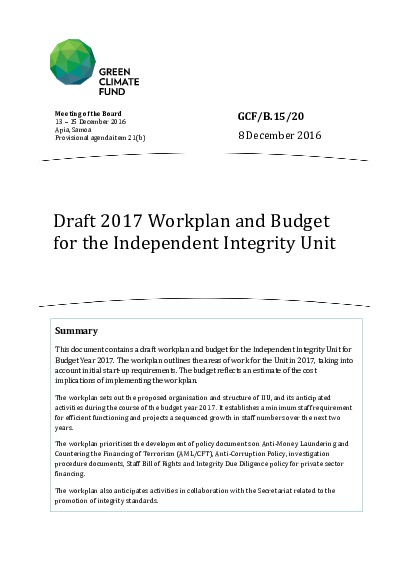 Download
GCF/B.15/20: Workplan and budget for the Independent Integrity Unit for 2017
This document contains a draft workplan and budget for the Independent Integrity Unit for Budget Year 2017. The workplan outlines the areas of work for the Unit in 2017, taking into account initial start-up requirements. The budget reflects an estimate of the cost implications of implementing the workplan.
The workplan sets out the proposed organisation and structure of IIU, and its anticipated activities during the course of the budget year 2017. It establishes a minimum staff requirement for efficient functioning and projects a sequenced growth in staff numbers over the next two years.
The workplan prioritises the development of policy documents on Anti-Money Laundering and Countering the Financing of Terrorism (AML/CFT), Anti-Corruption Policy, investigation procedure documents, Staff Bill of Rights and Integrity Due Diligence policy for private sector financing.
The workplan also anticipates activities in collaboration with the Secretariat related to the promotion of integrity standards.
Document symbol
GCF/B.15/20
Cover date
08 December 2016