GCF/B.15/14: Staffing of the Secretariat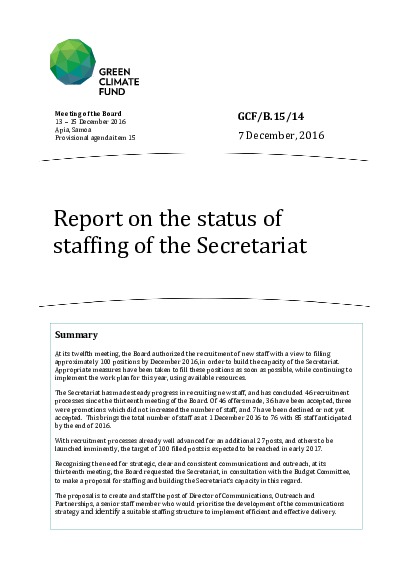 Download
GCF/B.15/14: Staffing of the Secretariat
At its twelfth meeting, the Board authorized the recruitment of new staff with a view to filling approximately 100 positions by December 2016, in order to build the capacity of the Secretariat. Appropriate measures have been taken to fill these positions as soon as possible, while continuing to implement the work plan for this year, using available resources.
The Secretariat has made steady progress in recruiting new staff, and has concluded 46 recruitment processes since the thirteenth meeting of the Board. Of 46 offers made, 36 have been accepted, three were promotions which did not increased the number of staff, and 7 have been declined or not yet accepted. This brings the total number of staff as at 1 December 2016 to 76 with 85 staff anticipated by the end of 2016.
With recruitment processes already well advanced for an additional 27 posts, and others to be launched imminently, the target of 100 filled posts is expected to be reached in early 2017.
Recognising the need for strategic, clear and consistent communications and outreach, at its thirteenth meeting, the Board requested the Secretariat, in consultation with the Budget Committee, to make a proposal for staffing and building the Secretariat's capacity in this regard.
The proposal is to create and staff the post of Director of Communications, Outreach and Partnerships, a senior staff member who would prioritise the development of the communications strategy and identify a suitable staffing structure to implement efficient and effective delivery.
Document symbol
GCF/B.15/14
Cover date
07 December 2016