GCF/B.13/20: Status of staffing of the Secretariat – a progress report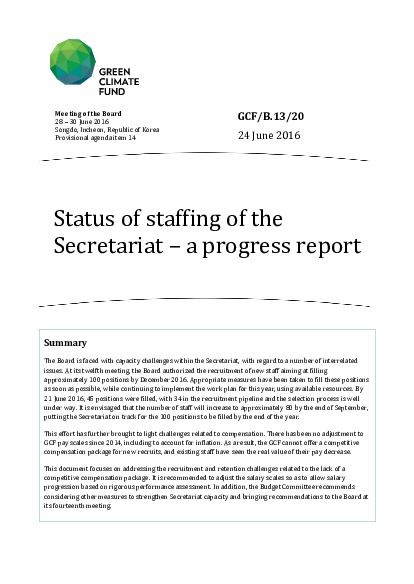 Download
English
|
PDF
|
642.21 KB
GCF/B.13/20: Status of staffing of the Secretariat – a progress report
The Board is faced with capacity challenges within the Secretariat, with regard to a number of interrelated issues. At its twelfth meeting, the Board authorized the recruitment of new staff aiming at filling approximately 100 positions by December 2016. Appropriate measures have been taken to fill these positions as soon as possible, while continuing to implement the work plan for this year, using available resources. By 21 June 2016, 45 positions were filled, with 34 in the recruitment pipeline and the selection process is well under way. It is envisaged that the number of staff will increase to approximately 80 by the end of September, putting the Secretariat on track for the 100 positions to be filled by the end of the year.
This effort has further brought to light challenges related to compensation. There has been no adjustment to GCF pay scales since 2014, including to account for inflation. As a result, the GCF cannot offer a competitive compensation package for new recruits, and existing staff have seen the real value of their pay decrease.
This document focuses on addressing the recruitment and retention challenges related to the lack of a competitive compensation package. It is recommended to adjust the salary scales so as to allow salary progression based on rigorous performance assessment. In addition, the Budget Committee recommends considering other measures to strengthen Secretariat capacity and bringing recommendations to the Board at its fourteenth meeting.
Document symbol
GCF/B.13/20