GCF/B.12/02: Reports from committees, panels and groups of the Board of the Green Climate Fund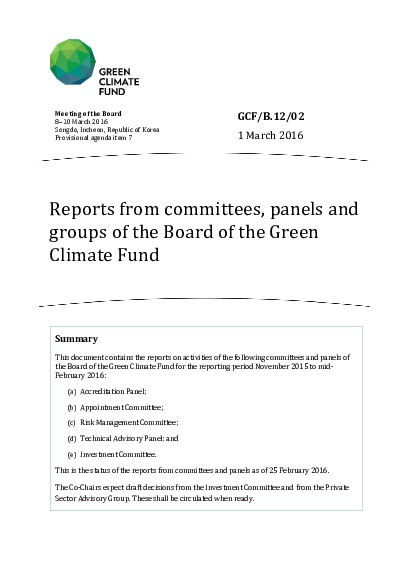 Download
English
|
PDF
|
663.81 KB
GCF/B.12/02: Reports from committees, panels and groups of the Board of the Green Climate Fund
This document contains the reports on activities of the following committees and panels of the Board of the Green Climate Fund for the reporting period November 2015 to midFebruary 2016:
Accreditation Panel;
Appointment Committee;
Risk Management Committee;
Technical Advisory Panel; and
Investment Committee.
This is the status of the reports from committees and panels as of 25 February 2016. The Co-Chairs expect draft decisions from the Investment Committee and from the Private Sector Advisory Group. These shall be circulated when ready.
Document symbol
GCF/B.12/02