GCF/B.10/Inf.05: Report on the Implementation of Legal and Formal Arrangements with Accredited Entities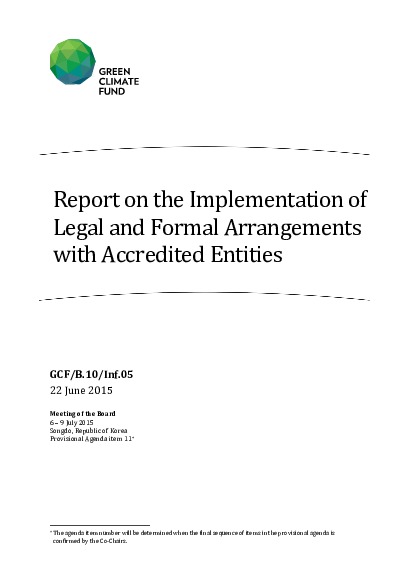 Download
English
|
PDF
|
396.57 KB
GCF/B.10/Inf.05: Report on the Implementation of Legal and Formal Arrangements with Accredited Entities
By its decision B.07/02, the Board decided to adopt an accreditation process comprising three main stages, with Stage III including the conclusion of legal arrangements between accredited entities, and the Green Climate Fund (the Fund).
Decision B.09/08 called for the Fund to enter into agreements or other arrangements with entities upon their accreditation by the Board, taking into account certain considerations endorsed by the Board in relation to the form, structure and contents of such agreements or arrangements. It further authorized the Executive Director (or his/her designee), on behalf of the Fund, to negotiate and agree on the terms and conditions of such agreements with accredited entities, reflecting the scope of accreditation, and to enter into such agreements.
This document is a report to the Board on the status of the implementation of decision B.09/08.
Document symbol
GCF/B.10/Inf.05