GCF/B.09/07: Further Development of the Initial Investment Framework: Sub-Criteria and Methodology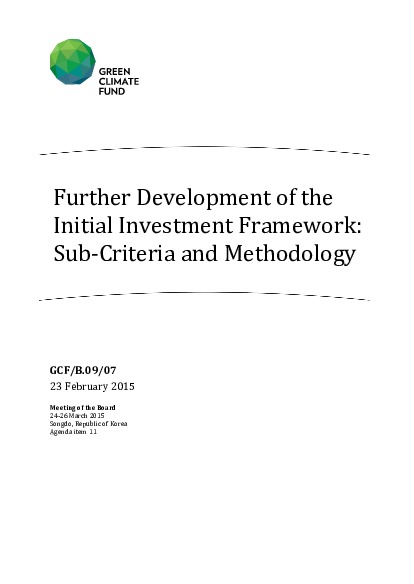 Download
GCF/B.09/07: Further Development of the Initial Investment Framework: Sub-Criteria and Methodology
The Board, through its decision B.07/06, adopted the initial investment framework of the Green Climate Fund.
At the same meeting, the Board requested the Investment Committee to submit the following for consideration at the next Board meeting, with technical support provided by the Secretariat and other stakeholders and taking into consideration recommendations made by the Private Sector Advisory Group, before the Fund approves funding proposals:
Definitions for activity-specific sub-criteria and a set of activity-specific indicators, taking into account the Fund's initial investment framework, its initial result areas and initial results management framework, and decisions B.05/03, B.05/05 and B.06/07, as well as subsequent decisions on additional result areas for adaptation;
Minimum benchmarks for each criterion, taking into account the best practices of other institutions; and
Identification and comparison of methodologies that enable the Secretariat to assess the relative quality and innovativeness of comparable proposals in comparable circumstances, including through a survey, for the application of the sub-criteria mentioned above in the selection of proposals (decision B.07/06, paragraph (c)).
The Board also requested the Secretariat to develop methodologies for the selection of programmes and projects that best achieve the Fund's objectives as stated in decision B.07/03.
The purpose of this document is to outline the elements as defined above.
Document symbol
GCF/B.09/07
Cover date
23 February 2015