GCF/B.09/06: Analysis of the Expected Role and Impact of the Green Climate Fund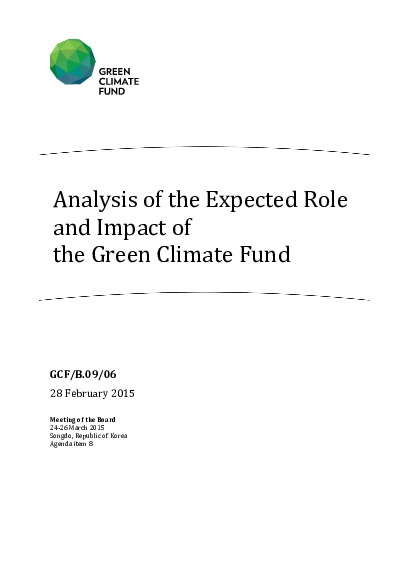 Download
GCF/B.09/06: Analysis of the Expected Role and Impact of the Green Climate Fund
At its eighth meeting, the Board requested the Secretariat to analyze the expected role and impact of the Green Climate Fund (the Fund) in its initial results areas and present options for determining investment portfolios across the structure of the Fund based on the resource level outcomes of the initial resource mobilization process.
Furthermore, the Board requested the impact analysis of the Fund's initial results areas to focus on, inter alia:
The identification of appropriate types of investment opportunities in the Fund's results areas that can achieve a paradigm shift towards low-emission and climate-resilient pathways; and
What impacts the Fund can/will generate in (each of) the initial result areas that would advance the Fund's initial investment criteria and sub-criteria, and are not currently being adequately supported by existing finance channels.
This document presents an executive summary, a draft decision for the Board's consideration (Annex I), and the above-mentioned detailed analysis and findings (Annex II).
Document symbol
GCF/B.09/06
Cover date
28 February 2015