GCF/B.09/02: Work Plan 2015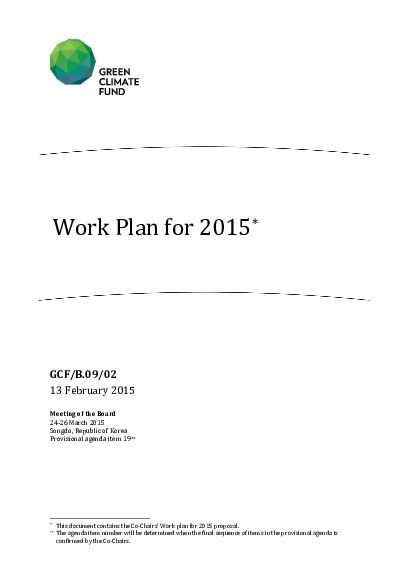 Download
English
|
PDF
|
830.39 KB
GCF/B.09/02: Work Plan 2015
The year 2015 represents a landmark in multilateral efforts to address climate change as the world works towards a global agreement that can lead to enhanced ambition and strengthened action while standing the test of time. The Green Climate Fund, as an operating entity of the United Nations Framework Convention on Climate Change (UNFCCC)'s financial mechanism, is a central piece in the global response to climate change.
This will be a critical year for the Fund to transition toward becoming an effective institution able to programme and disburse resources for projects and programmes that comply with agreed criteria by engaging with key partners, using the financial instruments at its disposal, and operating in an accountable and transparent manner in line with its mandate.
This work plan builds on the Fund's Governing Instrument, guidance provided by the Conference of the Parties (COP) to the UNFCCC and prior Board decisions that set the Board to "aim to start taking decisions on programme and project proposals no later than its third meeting 2015" and the Secretariat to "use best efforts to have applications ready for consideration and possible decision on accreditation by the Board at its ninth meeting." The work plan has incorporated these aims as a guiding vision to organize work throughout 2015.
Document symbol
GCF/B.09/02
Cover date
13 February 2015