GCF/B.05/15: Draft Travel Policy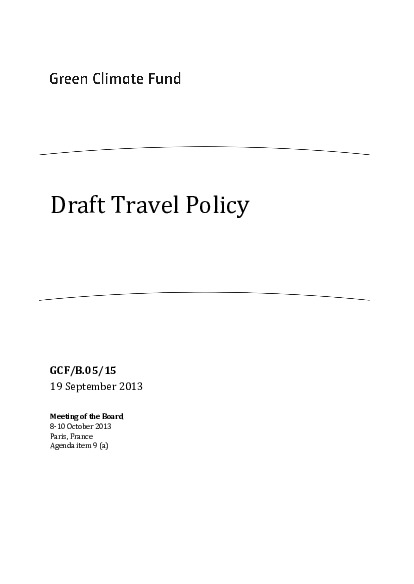 Download
English
|
PDF
|
488.47 KB
GCF/B.05/15: Draft Travel Policy
Annex II to this document outlines the rules for the funding of travel of Board members, alternate members, advisers, active observers and staff of the Fund, in accordance with decision B.01-13/02.
The Secretariat recognizes that travellers on official business act in the best interest of the Fund. However, in doing so, travellers should be prudent and cost-conscious with respect to business travel practices and should also bear in mind that travel expenses represent a significant component of the Fund's administrative costs. Travellers are therefore also responsible for controlling travel expenses and adhering to the policies and procedures outlined in the Travel Policy.
This Travel Policy is not intended to cover every possible situation. Instead, it is meant to guide the travellers and the staff administering the travel in making appropriate judgments about the use of Secretariat's travel funds.
Document symbol
GCF/B.05/15
Cover date
19 September 2013