GCF/B.01-12/Inf.03: Green Climate Fund Trust Fund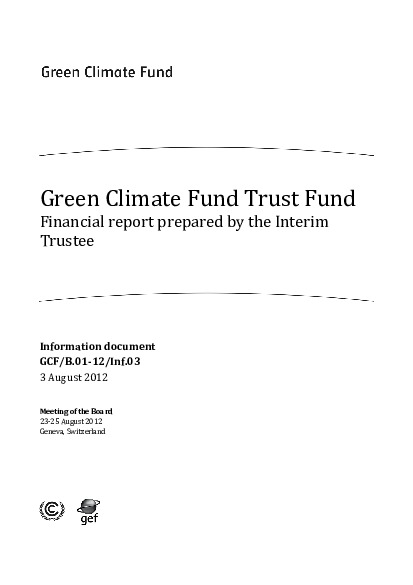 Download
English
|
PDF
|
611.12 KB
GCF/B.01-12/Inf.03: Green Climate Fund Trust Fund
This is the first Financial Report prepared by the World Bank as interim trustee for the Green Climate Fund. The information contained in this report is prepared based on financial information as of June 30, 2012.
The Conference of the Parties to the UNFCCC (COP), in its decision 3/CP.17, invited the International Bank for Reconstruction and Development (the World Bank) to serve as interim trustee for a new Green Climate Fund (GCF) established by the COP.
This report is presented to the Green Climate Fund Board in accordance with the roles and responsibilities of the interim trustee set forth in paragraphs 24-27 of the Governing instrument for the Green Climate Fund (3/CMP.17, Annex).
Document symbol
GCF/B.01-12/Inf.03
Cover date
03 August 2012