GCF/B.01-12/08/Rev.02: Revised Administrative Budget of the Interim Secretariat and the Interim Trustee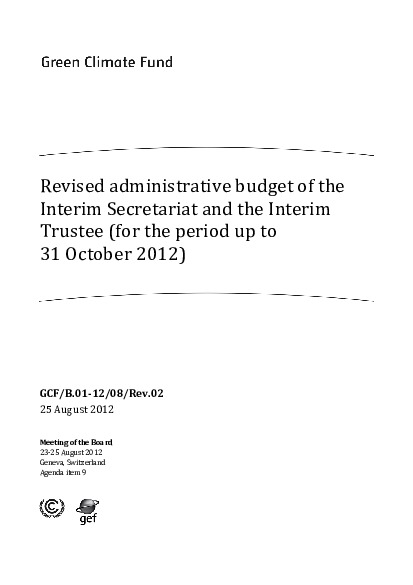 Download
English
|
PDF
|
276.68 KB
GCF/B.01-12/08/Rev.02: Revised Administrative Budget of the Interim Secretariat and the Interim Trustee
According to decision 3/CP.17 of the Conference of the Parties (COP) of the United Nations Framework Convention on Climate Change (UNFCCC), the Interim Secretariat is requested to provide technical, administrative and logistical support to the Board until the independent Secretariat of the Green Climate Fund is established.
Decision 1/CP.16 invites the World Bank to serve as the Interim Trustee for the Fund.
Arrangements for the Interim Secretariat and the Interim Trustee are presented in documents GCF/B.01‐12/05 and 07, respectively.
Document symbol
GCF/B.01-12/08/Rev.02
Cover date
25 August 2012