GCF audited financial statements for the years ending December 31, 2021 and 2020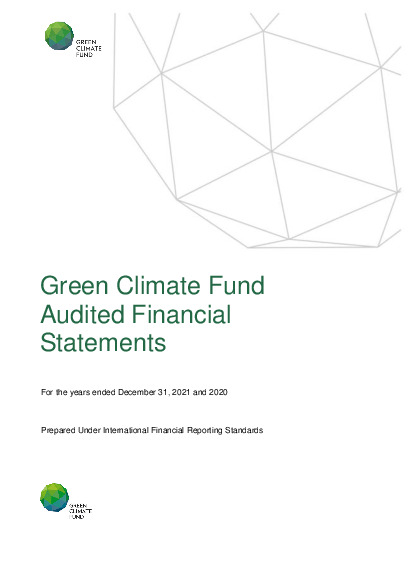 Download
GCF audited financial statements for the years ending December 31, 2021 and 2020
The audited financial statements for the years ending December 31, 2021, and 2020 include the income statement, statement of financial position, statement of changes in funds, statement of cash flows, and the notes to the financial statements of GCF.
The 2021 financial statements were prepared by the Green Climate Fund Secretariat, complying with the International Financial Reporting Standards framework. The Secretariat maintains appropriate accounting and internal control systems to enable the production of reliable financial statements. These include written policies and instructions, segregation of duties and internal checks, qualified and well-trained personnel, routine audits, and oversight of the reporting process by the Ethics and Audit Committee.
Nexia Samduk, an independent audit firm, was engaged to review and provide an opinion on whether the 2021 financial statements have been prepared and presented fairly and in accordance with the International Financial Reporting Standards (IFRS).
Cover date
30 January 2023
Document type
Financial statement
Table of contents
Approval of Financial Statements
Overview of Financial Results
Independent Auditors' Report
Statements of Financial Position
Statements of Comprehensive Income
Statements of Changes in Funds
Statements of Cash Flows
Notes to the Financial Statements