Establishing resilient, low carbon agricultural systems in Tonga, Vanuatu and Samoa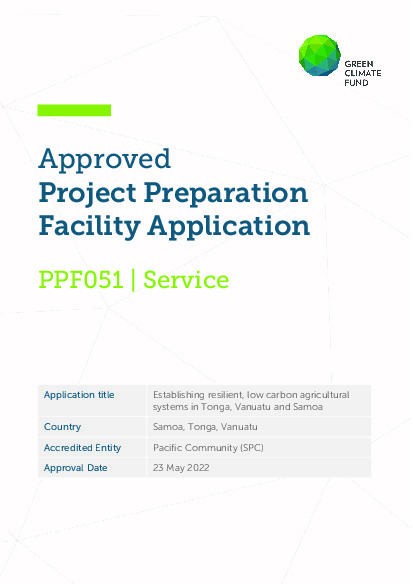 Download
Establishing resilient, low carbon agricultural systems in Tonga, Vanuatu and Samoa
Rising sea levels, decreasing rainfall, more intense storms and increasing temperatures are projected to reduce agricultural production. The impacts of climate change will therefore exacerbate baseline land degradation, threatening the food security and livelihoods of rural communities in Tonga, Vanuatu and Samoa, and negatively impacting their economies.
To reduce the vulnerability of rural communities, the proposed project will enable the transition from conventional to climate-resilient, regenerative agricultural (CRRA) practices. Through these practices, the delivery of agricultural ecosystem services will be enhanced and dependence on external inputs reduced.
With GCF support, this project will achieve a paradigm shift towards enhanced delivery of agricultural ecosystem services and reduced dependence on external inputs. The project will: i) strengthen cross-sectoral partnerships; ii) enhance market incentives for CRRA; iii) provide training and small grants for farmers; and iv) implement robust monitoring and knowledge-sharing initiatives to support learning and adaptive implementation of CRRA.
The concept note and pre-feasibility study submitted in December 2020 were cleared by CIC2 on the 24th of November 2021. This Project Preparation Facility (PPF) support from GCF is needed to conduct the following eight activities, which will help identify and assess existing conditions, gather available information and fill information gaps to develop an effective full funding proposal: i) feasibility study (incl. economic analyses) and stakeholder engagement plan; ii) environmental, social and gender studies and action plans; iii) risk assessment and mitigation plan; iv) monitoring and evaluation plan; v) procurement plan and associated documents; vi) term sheet and legal / regulatory due diligence; vii) budget plan and cofinancing framework; and viii) funding proposal development.
The results of these activities will be included in the final proposal for an estimated submission to GCF Board 35 (planned Q1 2023) for final approval.
Document type
Approved project preparation funding application