Entity Support for Antigua and Barbuda through PwC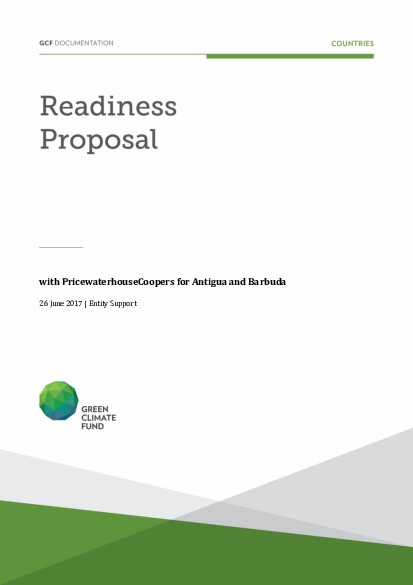 Download
Entity Support for Antigua and Barbuda through PwC
The Organization of Eastern Caribbean States (OECS) is an Economic Union established under the Treaty of Basseterre. The OECS is now a ten-member grouping comprising the full Member States of Antigua and Barbuda, Commonwealth of Dominica, Grenada, Montserrat, St Kitts and Nevis, Saint Lucia and St Vincent and the Grenadines, with the British Virgin Islands, Anguilla and Martinique as associate members of the OECS.
At the 3rd Council of Ministers on Environmental Sustainability (COMES) hosted in the Commonwealth of Dominica in May 2016, Ministers mandated the Commission to pursue opportunities for climate financing, to support climate resilience in the OECS. Ministers strongly reaffirmed this mandate at the 4th COMES held in Grenada in April 2017.
Consistent with the aforementioned mandates, the OECS Commission has applied for readiness support in becoming a Readiness Delivery Partner for selected independent OECS Member States and for full GCF accreditation as a Regional Implementing Entity.
To be accredited and to operate as an Accredited Entity, the OECS Commission will require, inter alia, Fiduciary Standards that satisfy GCF criteria. The Commission does not currently possess such standards. For this reason, the services of PwC are requested to undertake the necessary gap assessment & action plan support for fiduciary standards, recognising that PWC that a framework agreement exists between PwC and the GCF.
Document type
Approved readiness proposal