Enhancing Lesotho's private sector readiness for a clean energy transition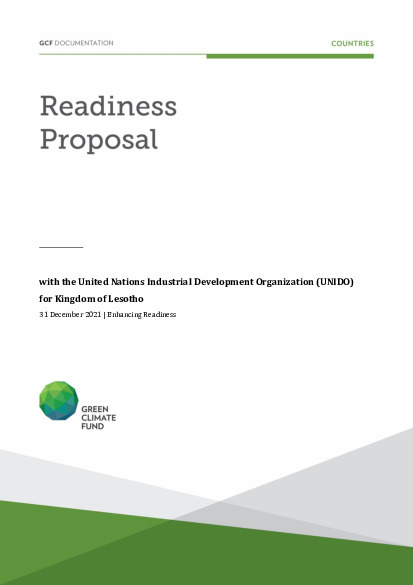 Download
Enhancing Lesotho's private sector readiness for a clean energy transition
The energy sector makes up for 63% of the total greenhouse gas (GHG) emissions of Lesotho, and this is projected to rise if the country missed the opportunity to transition to a low-carbon energy sector and simultaneously address energy access challenges. To address this issue, Lesotho's Energy Policy 2015-2025 calls for the increased private sector participation in the energy sector, underlining the need for the uptake of investments in clean energy solutions. Lesotho's National Science and Technology Plan also stresses the need to promote innovation in the country's energy sector.
Private sector's ability to provide and invest in technology solutions on a commercial basis will be a catalytic factor in achieving Lesotho's climate and clean energy goals. However, Lesotho's private sector has limited capacity to innovate, develop and deploy home-grown technology and business solutions to address climate and energy challenges. While there may be technology innovations and business ideas stemming from universities, research labs, and SMEs, there is no system or culture of support at the national level to nurture a pool of climate and clean energy (cleantech) solutions into profitable business models, which can provide competitive alternatives to carbon-intensive options in the market. Adding to the challenge is the current policy and legal framework, which does not adequately incentivize private sector investments in the cleantech sector. In addition, the market conditions are not favorable for investments into cleantech solutions. For example, Lesotho's low electricity tariffs do not make the electricity market attractive to private investors, especially when considering costs of renewable energy or energy efficiency measures – while the fossil fuel sector is strongly supported by national and multinational companies.
To address the above-mentioned challenges, this proposal aims to enhance the readiness of Lesotho's private sector to develop, commercialize, and invest in climate and clean energy (cleantech1) solutions, as well as to maximize the economic growth opportunities embedded therein, while supporting Lesotho in reaching its NDC targets. To this end, this proposal will focus on three areas of intervention:
Strengthening private sector's capacity, systems and networks to support the planning, programing, and implementation of GCF funded activities (outcome 1.3)
Developing a strategy to create a conducive environment for attracting private sector investment for cleantech solutions (outcome 2.4)
Developing a pipeline of investment-grade solutions, and two concept notes to leverage private sector financing for large-scale deployment of cleantech solutions (outcome 4.3)
Private sector capacity strengthening will involve two types of direct beneficiaries:
Business model enhancement and business growth support provided to private sector enterprises (early-stage cleantech entrepreneurs, start-ups and SMEs) that are developing innovative cleantech solutions
Training and certification of individuals as cleantech experts, to build their expertise and networks to coach and mentor early-stage enterprises
In addition, the present proposal will support the Government of Lesotho, and in particular the NDA, through the Private Sector Expert Committee. This Committee will be a formal channel for the NDA to solicit and receive private sector views and recommendations, and ensure that the private sector is are better represented and therefore fully engaged in the climate finance processes including the planning, programing and implementation of GCF funded activities.
The present proposal will further contribute to strengthening the cleantech ecosystem2 of Lesotho, by enhancing the interest and understanding of Lesotho's private sector to invest in climate and energy action. The private sector engagement strategy will provide recommendations and action points that can guide Lesotho's private sector to be better equipped and ready to absorb and leverage climate finance with home-grown innovative solutions, and play a catalytic role in the market towards a clean energy transition.
Cover date
31 December 2021
Document type
Approved readiness proposal
Organisation
United Nations Industrial Development Organization