Enhancing Indonesia's Access to International Climate Finance and Private Sector Investments for Climate Actions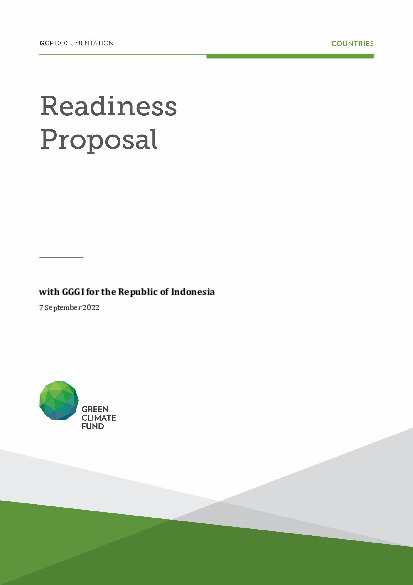 Download
Enhancing Indonesia's Access to International Climate Finance and Private Sector Investments for Climate Actions
Indonesia is the world's fourth most populous country. It will play a significant role in mitigating global climate change in the future. It is also among the countries most vulnerable to climate change.
To achieve Indonesia's Nationally Determined Contribution (NDC) targets to reduce GHG emissions by 29% (with only domestic resources) or 41% (with additional international support), it is estimated that investments of USD 247 billion or USD 19 billion per year are needed from 2018 to 2030. The state budget allocated to climate change mitigation is ca. USD 5.7 billion per year, representing only about 30% of the financial needs to achieve the NDC targets. The Government of Indonesia (GoI) has made efforts to increase domestic climate finance. However, to fill the investment gap it is critical to mobilize international climate finance and private sector investments.
The NDA-led -Readiness Needs Assessment (RNA) identified the following challenges and gaps:
Imbalanced distribution of funding across climate actions with funding currently concentrated in a few sectors.
A low number of high-quality concept notes and no funding proposal submitted by DAEs.
Limited engagement and investment from private sector actors in climate action.
The long-term goal of this Readiness proposal is that Indonesia is ready to mobilize international climate finance and private sector investment to close the financing gap across the priority sectors identified by the Government of Indonesia. It will build on and complement the achievements of previous Readiness grants by addressing the above-mentioned challenges through three workstreams:
Workstream 1. Improve funding allocation across priority sectors.
Improve climate finance coordination and synergy among the relevant ministries and other institutions.
Strengthen the capacity of national and subnational government for project development and for the collection of climate finance data for planning and budgeting.
Develop a strategic and effective approach to increasing investments in the project pipeline for priority sectors.
Workstream 2. Improve DAEs' capacity and project pipeline.
Provide capacity building and technical assistance to improve the capacity of DAEs to develop high-quality concept notes and funding proposals.
Implement a programmatic approach for DAEs to access international climate finance for the project pipeline and deliver a greater impact.
Workstream 3. Increase private sector investments in climate action.
Engage and motivate the private sector to direct investments into priority climate actions.
Engage and coordinate all relevant stakeholders, including government, financial institutions, multilateral agencies and the private sector, to implement effective blended finance.
Strengthen the linkage between de-risking instruments and the project pipeline to attract more private sector investments.
The direct beneficiaries include the NDA, the Ministry of Environment and Forestry (MoEF), the National Development Planning Agency (Bappenas), (nominated) Direct Access Entities (DAEs) and the Indonesian Environment Fund (IEF). The indirect beneficiaries include other key relevant agencies, subnational governments, private sectors, proponents submitting funding proposals, and local CSOs representing communities and vulnerable groups.
Cover date
07 September 2022
Document type
Approved readiness proposal
Organisation
Global Green Growth Institute