Enhancing climate action environment with an updated Country Programme, strengthening DAE to develop a pipeline of projects and effectively implement GCF funded activities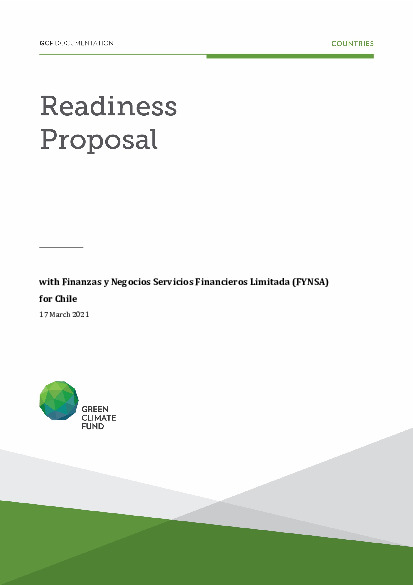 Download
Enhancing climate action environment with an updated Country Programme, strengthening DAE to develop a pipeline of projects and effectively implement GCF funded activities
The main objective of this document is to request and raise funds for developing a Public & Private Sector Project Pipeline. The primary purpose is to settle the structural basis for an enabling climate action environment. Therefore, both the public and private sectors must share the responsibility to address the changes required to undertake climate action in Chile.
The proposal through its project pipeline, coordination mechanisms and private enhancement will address capacity and technical gaps to achieve priorities set in the updated NDCs, NAPs, and long-term climate strategies. Country demand considers fostering strategic deployment with a view for enhancing national ambition towards 2050 carbon neutrality.
Three objectives are the basis of this request, which together form a process which final goal is to develop a Public & Private Project Pipeline and settle an enabling climate action environment. These three objectives are as follows:
Strengthening the coordination mechanisms between public entities, including National Designed Entity (NDA), and communicating the GCF to the Chilean community.
Country Programme (CP) update, aligning it with Chile's commitments in the medium- and long-term regarding Climate Change action, reflected in documents such as the current updated NDC, Long Term Climate Strategy (LTCS), amongst others.
Strengthening the role of the Direct Access Entity (DAE), developing a work plan included in the CP and a robust project pipeline.
The activities detailed in the Logframe of this readiness proposal were designed to be as efficient as possible while being aligned with the specific outcomes that are expected to achieve. The actual outcomes resulting from the execution or implementation of said activities will be visible through the presentation of specific deliverable documents that register the advances throughout the readiness process.
In the short term, the resources of the Readiness Programme will benefit the NDA, Technical Secretariat for GCF in Chile (TS), DAE, and other stakeholders, who will be able to strengthen their capacities and update their processes and policies. In the medium term, it will benefit project/programme originators and developers, since their actions will generate an enabling environment for climate action, which will become the implementation of projects/programmes. In the long term, it will benefit society, achieving the objectives set by the NDC, which implies reaching carbon neutrality and developing climate resilience.
Document type
Approved readiness proposal
Organisation
Finanzas Y Negocios Servicios Financieros Limitada