Enhancing the capacities of Banco de Desarrollo de Ecuador B.P. (BDE) to support its accreditation to the Green Climate Fund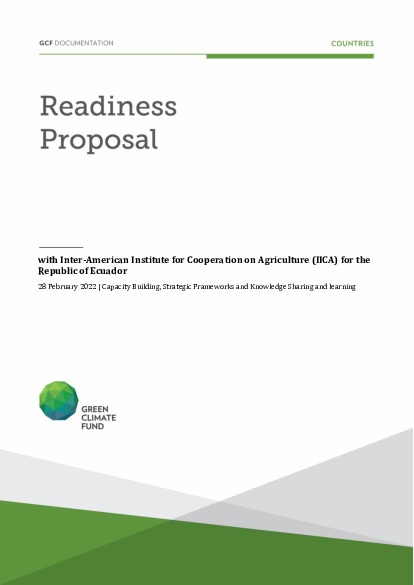 Download
Enhancing the capacities of Banco de Desarrollo de Ecuador B.P. (BDE) to support its accreditation to the Green Climate Fund
Ecuador's financial sector can play an important role in mobilizing climate finance resources through financial intermediation activities and as a promoter of sustainable finance. However, at present, there are no GCF-accredited Direct Access Entities (DAE) in Ecuador. This has been one of the main reasons that have led the Development Bank of Ecuador B.P. BDE has been nominated for accreditation before the CGF by the National Designated Authority (NDA) of Ecuador. 
For more than 40 years, (BDE) has established itself as the main source of national financing for local development. Today the BDE seeks to contribute comprehensively to sustainable development. BDE has an ideal profile to participate actively and effectively in increasing the mobilization of resources that help mitigate the climate problem in that country. The internal capacities of the Bank and the coordination with the National Designated Authority are strengths that have led at this time to the proposal for preparatory support, which, however, must increase in capacities for the challenge of participating in a climate mechanism such as the GCF. 
The proposal addresses an opportunity to accelerate interactions of the Development Bank of Ecuador with national stakeholders on climate change action, strengthening capabilities to overcome barriers such as: 
BDE staff limited capacity to apply strengthened fiduciary criteria adapted to the requirements of the GCF 
BDE Basic and Specialized Fiduciary Standards are not aligned / sufficient documented with GCF requirements 
BDE staff with limited technical knowledge to understand green finance and sustainable banking 
Insufficient participation of national stakeholders (Local Governments and Public  
Institutions among others) jointly with the private sector in climate change projects. 
Weak clarity around the pipeline of climate finance projects under NDCs priorities 
Lack of systematization of accreditation experiences of regional DAEs. 
Therefore, the objective of this preparation proposal is to support the accreditation process of the BDE by strengthening the capacities of banks as DAE. This proposal will help to overcome the lack of institutional and technical capacities in BDE to obtain the appropriate qualifications required by the GCF accreditation standards. 
Cover date
28 February 2022
Document type
Approved readiness proposal
Organisation
Instituto Interamericano de Cooperación para la Agricultura