Ecosystem-based Adaptation (EbA) for Reducing Community Vulnerability to Climate Change in Northern Pacific Small Island Developing States (SIDS)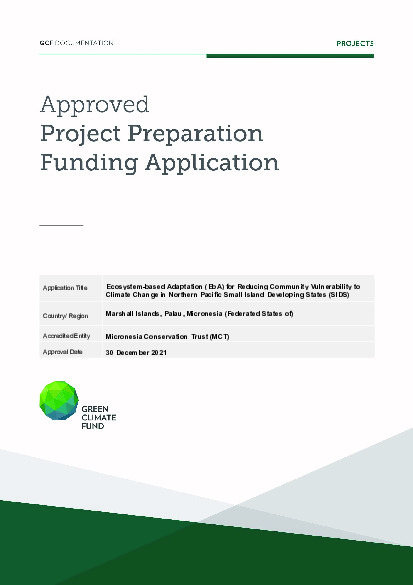 Download
English
|
PDF
|
504.77 KB
Ecosystem-based Adaptation (EbA) for Reducing Community Vulnerability to Climate Change in Northern Pacific Small Island Developing States (SIDS)
Climate change and other human-induced degradations are affecting natural ecosystems and protected areas upon which communities in FSM, Palau and RMI rely on as a buffer against future climate change impacts as well as for protection from climate change impacts that affect subsistence and community livelihoods. Although FSM, Palau and RMI have numerous designated protected areas throughout the three countries, there are often limited resources for local communities to effectively manage the natural assets and ecosystems within these areas for climate change adaptation purposes. Additionally, there is little sharing of knowledge among local communities, states and countries managing these protected areas. This hinders the amount of regional cooperation and future scaling- up and replication of effective protected area management and community-led, ecosystem-based adaptation.
This proposed EDA programme will build on and upscale successful interventions from other projects in the region including the Micronesia Challenge, the Pacific Ridge to Reef (R2R) Programme and Adaptation Fund project Enhancing the Climate Resilience of vulnerable island communities in the Federated States of Micronesia. The EDA programme will allow for a region-wide approach to building resilience reduce the vulnerability of the natural ecosystems upon which these communities rely to climate change stressors.
The PPF support from GCF is needed to conduct the following activities, which will help identify and assess existing conditions, gather available information and fill information gaps to develop an accurate and robust full funding proposal: (i) a technical study to improve the climate rationale and assess vulnerability of target areas to justify interventions; (ii) a stakeholder consultation; (iii.) a feasibility study including a cost-benefit analysis of potential adaptation options; (iv.) a stakeholder engagement plan; (v.) an assessment of project risks and mitigation actions; (vi) the development of the project's logical framework with associated indicators, (vii.) a procurement plan, detailed project budget and financial report; and (viii.) required coordination, synthesis and analysis to develop the full funding proposal.
USAID's Climate Ready programme is committed to continued support for climate change adaptation projects in the Northern Pacific. Therefore, Climate Ready has indicated its support for this project and will co-finance project development alongside the PPF service. Climate Ready has committed approximately $30,000 in financing for an environmental and social action plan (Annex 12 of the SAP) and gender assessment and action plan (Annex 4 of the SAP), which will be utilized in the full proposal package.
Cover date
30 December 2021
Document type
Approved project preparation funding application
Organisation
Micronesia Conservation Trust
Country
Marshall Islands
Micronesia (Federated States of)
Palau