Direct financing for communities and businesses to respond to climate change in the Cook Islands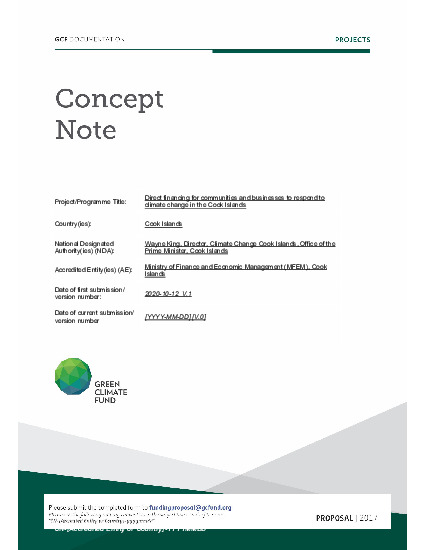 Download
Direct financing for communities and businesses to respond to climate change in the Cook Islands
The Cook Islands are expected to incur, on average, about USD 5 million per year (2% of GDP) in direct losses due to tropical cyclone activity – of which 90% are to the building sector. This project aims to strengthen vulnerable residential, small-scale commercial and community buildings, and their surrounding environments, to reduce the building sector's risk profile and adapt to current and projected climate change.
Responding to the GCF's 2016 Request for Proposals to pilot enhancing direct access, this project will make climate finance directly available to communities/NGOs, individuals (building owners), sole traders/small enterprises, and key public agencies.
The project will be driven by the new 2019 building code standard with mainstreamed resilience measures against cyclones, storm surge, floods and drought. Mitigation co- benefit activities will reduce greenhouse gas emissions through household waste separation, increased recycling, energy efficiency retrofits, and sanitation systems.
Cover date
16 October 2020
Document type
Concept note
Organisation
Ministry of Finance and Economic Management, Cook Islands