Development of Guyana's National Climate Finance Strategy, MRV System and Project Pipeline to Support NDC Implementation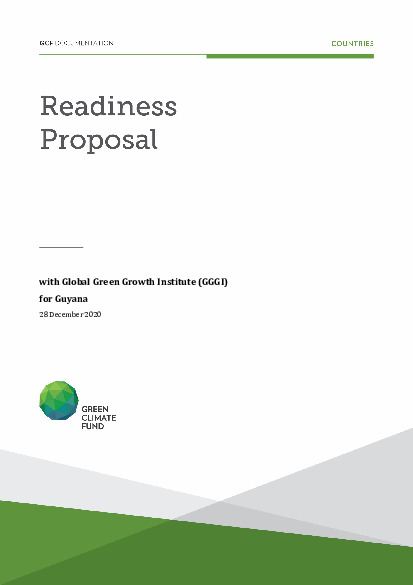 Download
Development of Guyana's National Climate Finance Strategy, MRV System and Project Pipeline to Support NDC Implementation
Guyana's Low Carbon Development Strategy (LCDS) was launched in 2009 and later updated in 2013 as the document to guide Guyana's economic development at the same time addressing climate change, other documents has been created to support LCDS as the National Climate Change Policy (draft). At the same time, Guyana's finance landscape is undergoing major changes due to recent oil discoveries. The LCDS and National Climate Change Policy recognize the need for increased climate finance in order to develop and implement projects to meet their national and international commitments with credible impacts. At the same time, both documents also identify the need to build the country's capacity to facilitate access to such finance.
This Readiness project aims to increase the capacity of Guyana to strategically manage climate finance flows and achieve their revised National Determined Contribution (NDC) targets, by supporting:
the development of a National Climate Finance Strategy for an effective and efficient climate finance architecture to support NDC, LCDS and National Climate Change Policy implementation;
capacity building related to financial instruments for the National Designated Authority to the GCF (NDA), National Climate Change Committee (NCCC), Ministry of Finance (MoF), Ministry of Foreign Affairs (MoFA), potential national GCF Direct Access Entities (DAEs), banking institutions, other government agencies, and the private sector;
the development of ambitious and realistic targets for the energy and agriculture sectors in Guyana's second (revised) NDC and capacity building for local experts and Office of Environment and Climate Change (OECC) to improve the quality of Guyana's UNFCCC reporting obligations.
the improvement of National GHGs monitoring, reporting and verification (MRV) system under the enhanced transparency framework of the Paris Agreement to increase the capacity and coordination between ministries and agencies to gather emission activity data, emission factors and achieve and track NDC targets in line with implementation of LCDS and National Climate Change Policy, focused on the Energy and Agriculture sectors in line with IPCC 2006 Guidelines;
the development of a project pipeline with an investment plan and project/program concept notes for submission to GCF to meet Guyana's revised NDC targets.
The Government of Guyana (GoG) is the direct beneficiary of this Readiness project which ultimately aims to increase Guyana's capacity to achieve its NDC targets. Other direct beneficiaries of this Readiness project include the NDA, OCC, NCCC, MoF, MoFA, Guyana Energy Agency (GEA), Ministry of Agriculture (MoA), local banks, DAE candidates and the private sector. This Readiness project will increase their capacity to develop a robust pipeline of projects and to access climate finance.
Indirectly the project will benefit all Guyanese citizens by facilitating the implementation of mitigation and adaptation projects that address or prevent the impacts of climate change.
Cover date
28 December 2020
Document type
Approved readiness proposal
Organisation
Global Green Growth Institute