Concept Note template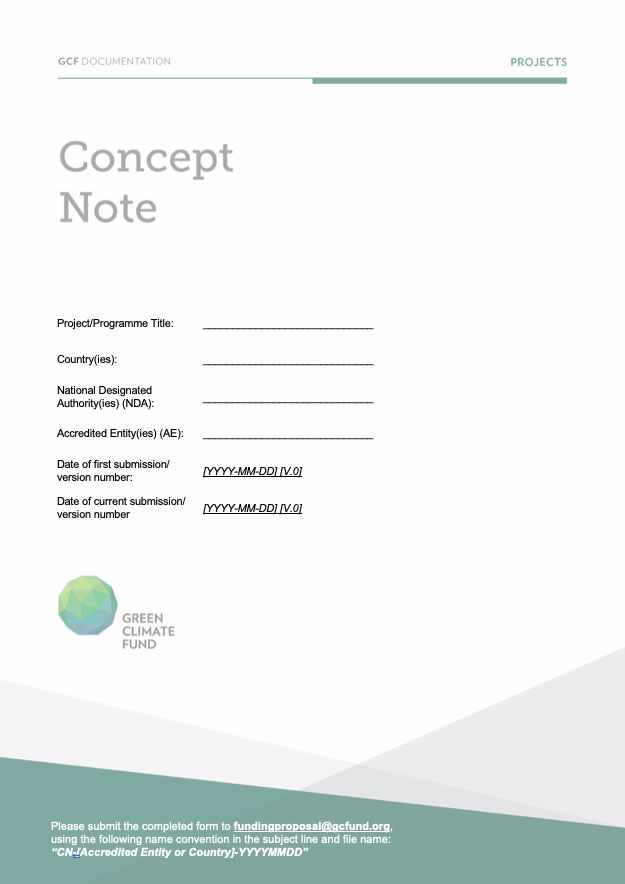 Download
English
|
DOC
|
270.81 KB
Concept Note template
The concept note presents a summary of a proposed project/programme to the GCF in order to receive feedback from the GCF Secretariat on whether the concept is aligned with the Fund's objectives, policies and investment criteria. Such feedback will provide information to further develop and strengthen the project/programme idea.
Prior to the submission of the concept note, if applicable, but no later than submission of a funding proposal to the Secretariat, the accredited entity shall: a. Inform the NDA or, if applicable, the focal point about the proposed activity to be implemented in their country and commence consultations with a view to confirming it is in accordance with the country's strategic framework and priorities; and b. Inform the Secretariat that it has commenced consultations with the NDA or, if applicable, the focal point.
Any feedback provided by the GCF Secretariat does not represent acceptance or commitment to provide financial resources in respect of a specific project/programme. Funding decisions can only be made by the GCF's Board. Any feedback is intended to provide non-binding guidance to enable the Accredited Entity to initiate the next phase, the preparation and submission of the full funding proposal. The concept note is not mandatory but strongly encouraged to promote early feedback from the GCF Secretariat, to streamline with the Project Preparation Facility (PPF), and to allow for a faster review process.
Table of contents
Project/programme summary
Project/programme information
Indicative financing/Cost information
Supporting documents submitted