Capacity Building to support Institutional Strengthening, Planning, and Programming to enable increased Climate Finance mobilization for Saint Vincent and the Grenadines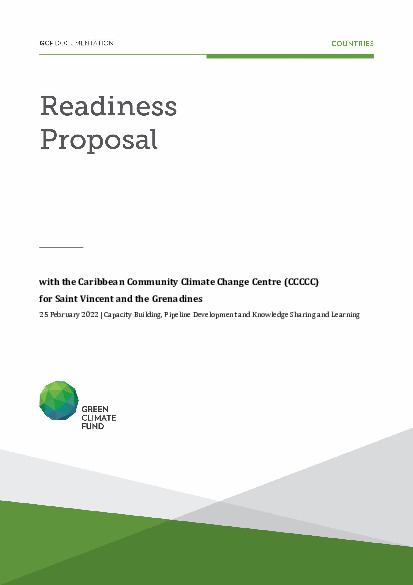 Download
Capacity Building to support Institutional Strengthening, Planning, and Programming to enable increased Climate Finance mobilization for Saint Vincent and the Grenadines
Saint Vincent and the Grenadines must implement measures to grapple with the myriad challenges of climate change that the country experiences routinely because of being located within the Caribbean chain of islands. Numerous studies, including the IPCC's 5th Assessment Report indicates that the Caribbean is one of the most vulnerable regions in the world to existing and projected impacts of climate change. Over the course of the past few decades SVG like most of the countries in the Caribbean, has been severely affected by the adverse impacts of climate change which has exacted a heavy toll on the economy, ecology and livelihoods of the country. Part of the island's response to the challenge has been to develop a strong national climate change framework and development agenda, inclusive of a National Climate Change Policy, National Climate Change Strategy, a National Adaptation Plan (NAP), a Nationally Determined Contribution and the National Economic and Social Development Plan (2013-2025) among others which together outline a strong proactive climate response agenda.
However, to enable SVG to achieve the goals and objectives set out in that agenda including scaling up investment in adaptation initiatives in line with the resilience building needs of the country, several in-country barriers need to be addressed. This Readiness will address the following specific barriers:
Inadequate local institutional capacity to support enhanced national adaption planning and decision making in the country
Limited capacity in country to produce and use climate change risks data, information and analysis in planning and formulating appropriate adaptation initiatives at the sectoral level
The absence of a long-range vision and plan for the programming and utilization of readiness resources to support the development of a robust investment pipeline that is responsive to national needs and priorities.
The limited capacity of the NDA to produce and disseminate suitable knowledge products to raise awareness of and engage multiple stakeholders on climate change related matters in the country and
Limited experience in country in developing high quality adaptation projects to address the resilience building needs of the country.
Cover date
25 February 2022
Document type
Approved readiness proposal
Organisation
Caribbean Community Climate Change Centre
Country
Saint Vincent and the Grenadines