Call for public inputs: Investment Framework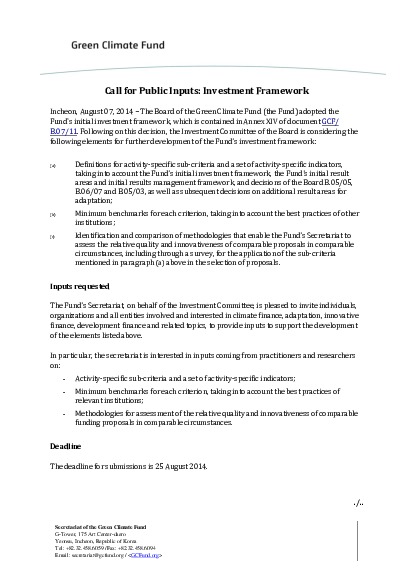 Download
English
|
PDF
|
571.56 KB
Call for public inputs: Investment Framework
The Board of the Green Climate Fund (the Fund) adopted the Fund's initial investment framework, which is contained in Annex XIV of document GCF/ B.07/11. Following on this decision, the Investment Committee of the Board is considering the following elements for further development of the Fund's investment framework:
Definitions for activity-specific sub-criteria and a set of activity-specific indicators, taking into account the Fund's initial investment framework, the Fund's initial result areas and initial results management framework, and decisions of the Board B.05/05, B.06/07 and B.05/03, as well as subsequent decisions on additional result areas for adaptation;
Minimum benchmarks for each criterion, taking into account the best practices of other institutions;
Identification and comparison of methodologies that enable the Fund's Secretariat to assess the relative quality and innovativeness of comparable proposals in comparable circumstances, including through a survey, for the application of the sub-criteria mentioned in paragraph (a) above in the selection of proposals.
The Fund's Secretariat, on behalf of the Investment Committee, is pleased to invite individuals, organizations and all entities involved and interested in climate finance, adaptation, innovative finance, development finance and related topics, to provide inputs to support the development of the elements listed above.
Cover date
07 August 2014
Document type
Call for input