Call for public comments: Draft supporting operating procedure of the IRM on retaliation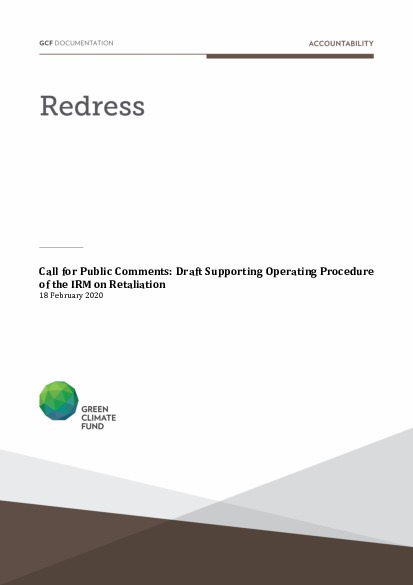 Download
English
|
PDF
|
283.44 KB
Call for public comments: Draft supporting operating procedure of the IRM on retaliation
The Independent Redress Mechanism (IRM) of the Green Climate Fund (GCF) has developed and is piloting supporting operating procedures (SOPs) to efficiently and effectively implement the Terms of Reference (TOR) and the Procedures and Guidelines (PGs) of the IRM.
One of the modules in the IRM's SOPs concerns the topic of retaliation. This module principally addresses risks of retaliation in IRM grievances or complaints to individuals or to groups of people. Risks of retaliation might also on occasion arise for organizations such as civil society organizations or enterprises.
This call for public comments on the IRM's retaliation module is part of ongoing efforts of the IRM to consult with stakeholders on its processes and procedures. Comments on this module or any issue related to the IRM's handling of risks of retaliation are called for. Any individual or organisation may submit comments.
Cover date
18 February 2020
Document type
Call for input
Table of contents
Context
Deadline
Comments
Disclaimer
Annex 1: Retaliation SOP