Building Resiliency in the Water Supply Sector in St. Kitts and Nevis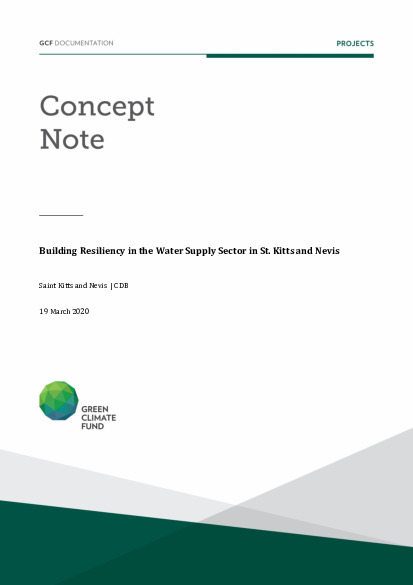 Download
Building Resiliency in the Water Supply Sector in St. Kitts and Nevis
The Federation of St. Kitts and Nevis is experiencing, since the last decades of the 20th Century, a sharp reduction in its water availability. Even with the considerable resources devoted to expanding water availability, the Federation faces, in 10 to 15 years, a situation in which all current water sources will not be enough to supply the basic water needs of the population. By assigning all available waters to potable water supply, other users have been underserved, most prominently the agriculture sector.
The project seeks to increase climate resilience and sustainability for the water supply sector in SKN. To achieve its objective, the project will: (a) build resiliency into the water supply infrastructure by introducing seawater desalination as its core source of water supply; (b) strengthen the organization capacity of water service providers, and (c) support the construction of an enabling environment for the service providers to lessen the institutional and regulatory barriers identified, and provide greater financial and managerial autonomy and accountability.
The Caribbean Development Bank will be the Accredited Agency and will coordinate all activities through the Ministry of Sustainable Development, the executing agency. The Ministry will coordinate a Project Steering Committee (PSC), with the participation of all key stakeholders, who will guide a small Project Implementation Unit, PIU. The water service providers and the electric utilities will support the PIU providing technical support. The PSC composition will be inclusive and with a focus on ensuring gender balance. The PSC will benefit from the participation of vulnerable groups. It will be responsible for ensuring compliance with social and environmental safeguards and for the execution of the corresponding plan of actions.
Document type
Concept note
Organisation
Caribbean Development Bank