Building Resilience to High-Impact Hydro meteorological Events through the Strengthening of Multi-Hazard Early Warning Systems in Bhutan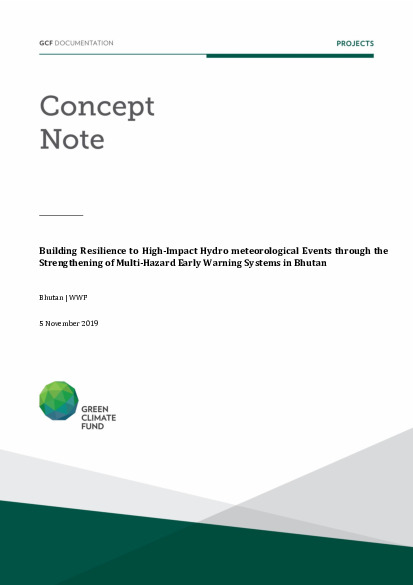 Download
English
|
PDF
|
568.32 KB
Building Resilience to High-Impact Hydro meteorological Events through the Strengthening of Multi-Hazard Early Warning Systems in Bhutan
Bhutan has a fragile mountainous landscape situated in a regional climatic region characterized by diverse influences that leave the country exposed to high weather variability and extreme events. With climate change, variability in both temperature and precipitation as well as the frequency and intensity of extreme events is increasing. Rising average temperatures, already recorded, and erratic rainfall exacerbate the risks from major hydrological hazards facing Bhutan, including glacial lake outburst floods (GLOFs), flash floods, riverine floods, landslides, landslide dam outburst floods, forest fires, droughts, and windstorms. Between 1994 and 2011, approximately 87,369 people were adversely affected by such events, resulting in 304 deaths. Seventy percent (70%) of Bhutanese settlements are located along river basins and are exposed to floods and other hydro-meteorological hazards. The economy is heavily dependent on climate sensitive sectors, with 58% of the working population in
Bhutan engaged in agriculture, 30.5% of whom are female. The livelihood systems of approximately 300,000 smallholder farmers are at increasing risk, 90% of whom are subsistence farmers . The country has also invested heavily in hydropower, which is directly affected by change in precipitation and temperature patterns.
Under these circumstances, the risks from increasing variability of temperatures and precipitation as well as extreme weather events could be reduced through improved early warning systems for hydro-meteorological disasters tied to better analysis of and targeting of vulnerable populations. The project will be executed by the Royal Government of Bhutan's National Center for Hydrology and Meteorology (NCHM). The project will build resilience of the vulnerable population through strengthening multi-hazard early warning systems for climate change induced hazards. The need for climate services and early warning information varies across gender, age groups, and level of vulnerability. Such factors necessitate the preparation of dynamic risk maps to aid decision-making in planning and response -including user-focused services that take account of gender-based needs and the special requirements of all target groups. The gender mainstreaming procedures and plan at the national and local administration level[1] will enable the project to provide equitable access to and participation of all vulnerable communities.
Cover date
05 November 2019
Document type
Concept note
Organisation
World Wildlife Fund, Inc.