Blue Halo S – Blue Ecosystem Adaptation Mechanism (BEAM)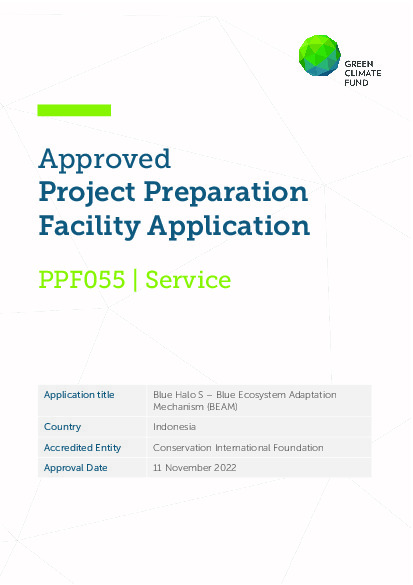 Download
Blue Halo S – Blue Ecosystem Adaptation Mechanism (BEAM)
On behalf of the Government of the Republic of Indonesia (GoI), Conservation International (CI) and partners seek to develop a GCF Funding Proposal based on the Concept Note submitted to the GCF for a Blue Ecosystem Adaptation Mechanism ("BEAM") that supports a broader initiative which seeks to create a paradigm shift in the financing of protection, conservation, and management of coastal and marine natural capital that maximizes nature- based climate change mitigation and adaptation benefits for vulnerable populations (the "Blue Halo S Initiative").
The Blue Halo S Initiative promotes sustainable financing for multiple marine conservation and sustainable ocean economy development objectives of the GoI including, but not limited to its current 2030 marine protected area expansion targets and its recently elevated ambitions to conserve 30% of territorial waters by 2045 and its ambitions for sustainable development and management of national marine fisheries resources, and "blue carbon" protection, restoration and rehabilitation goals.
The Blue Halo S initiative will be piloted in Fishery Area WPPNRI 5721, an area to the west of Sumatra (see Annex II), to enable blue economy investments in sustainable fisheries and marine protection. The Blue Halo S pilot is envisioned as a scalable blueprint for national- scale implementation of blended financing strategies that advance marine and coastal ecosystem conservation, and sustainable development to achieve climate adaptation and mitigation outcomes. In terms of sustainable financing priorities, the Blue Halo S will include the design and development of complementary initiatives:
Blue economy climate and sustainable development investments financed through the issuance of a Blue Bond (or other financing instrument) issued by a GCF Accredited Entity to be defined during the PPF feasibility phase; and
The establishment of a Blue Ecosystem Adaptation Mechanism ("BEAM"), a grant- based mechanism that supports enabling conditions for future investment and direct climate change mitigation and adaptation action in Indonesia's marine and coastal ecosystems.
While this PPF application encompasses certain preliminary analyses and studies beneficial for a related "Blue Halo S – Blue Bond" project, a separate, but linked, Concept Note, PPF application and Funding Proposal will be developed for that Blue Bond project. A separate Non-Objection Letter will be issued by Indonesia for that project.
The current PPF service application is to enable CI and its partners develop a high-quality Funding Proposal for the BEAM and build investment readiness for the Blue Bond project. PPF funding is requested for consultancy services to gather baseline data and information to ensure that the project is feasible, to engage stakeholder participation in the priority- setting and design of BEAM, develop appropriate implementation arrangements that ensure national ownership, identify ambitious but realistic indicators, analyze the project's financial and economic benefits, including a robust sustainability and exit strategy and to design an Environmental and Social Management Framework for BEAM that ensures equitable and effective implementation.
Conservation International (Accredited Entity) will lead the development of the Funding Proposal in close collaboration with the indicative Executing Entities—Konservasi Indonesia (KI, CI's main delivery partner in Indonesia) and the Indonesia Environment Fund Management Agency (Badan Pengelola Dana Lingkungan Hidup/BPDLH) — and in coordination with the Coordinating Ministry of Maritime Affairs and Investment (Kemenko Marves), Ministry of Maritime Affairs and Fisheries ( Kementerian Kelautan dan Perikanan/KKP), and the Ministry of Environment and Forestry (Kementerian Lingkungan Hidup & Kehutanan/KLHK). PPF funds will be used by GCF to procure experienced specialist consultants for the design of the Project through GCF's PPF service mechanism. CI, KI and BPDLH will contribute technical, operational and field expertise to review and refine technical inputs from the project partners and consultants, ensure holistic project design, and oversee effective engagement with government and other stakeholders.
Cover date
11 November 2022
Document type
Approved project preparation funding application
Organisation
Conservation International Foundation