Agriculture Sector Readiness for enhanced climate finance in India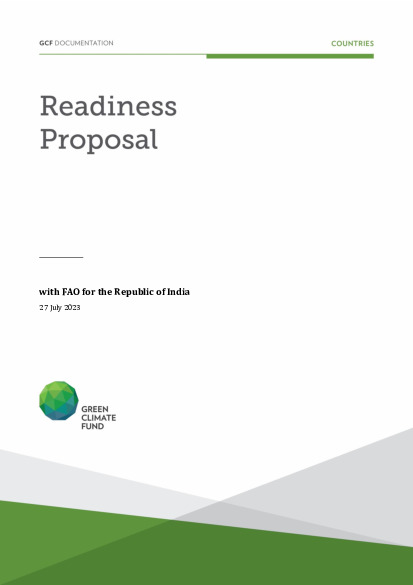 Download
Agriculture Sector Readiness for enhanced climate finance in India
The goal of the current GCF Readiness Proposal is to enhance India's capacity to develop sub-national climate finance investment programs and projects linked to adaptation and resilience priorities for the agriculture sector.  
The Readiness Support Project will help address the following three barriers – 
Fragmentation in planning and monitoring climate action in agriculture sector. 
Limited experience in accessing climate finance.  
Limited private sector engagement for climate action in the agriculture sector    
The project will be implemented in close coordination with the National Designated Authority (NDA) and the Ministry of Agriculture, Government of India. Further, the proposed Readiness project draws on outputs and outcomes of previous and ongoing Readiness project (00125704), "Green Climate Fund Readiness and Preparatory Support- 2".  
The Readiness project will engage with a diverse set of institutions across national, state and local government, research, organized private sector, producers and producer organizations, financial institutions including insurance companies, experts in value chains, agroforestry, climate change and agriculture, climate finance & carbon markets, etc., and the consultations will also leverage the outputs of the two completed Readiness projects in India, the GEF investments in the sector and those from bilateral and multilateral entities in the agri-food systems in order to prepare and submit more cohesive concept notes.  
Direct beneficiaries will be regional, national, and local level policymakers and other actors across different agricultural sectors, including forestry livestock and fishery sub-sectors as well. In the long run, the proposed project will contribute towards building resilience of smallholder farming households, women farmers, scheduled tribes and local communities, to adapt to the adverse effects of climate change.   
Document type
Approved readiness proposal
Organisation
Food and Agriculture Organization of the United Nations