Advancing the National Adaptation Plan Process in Benin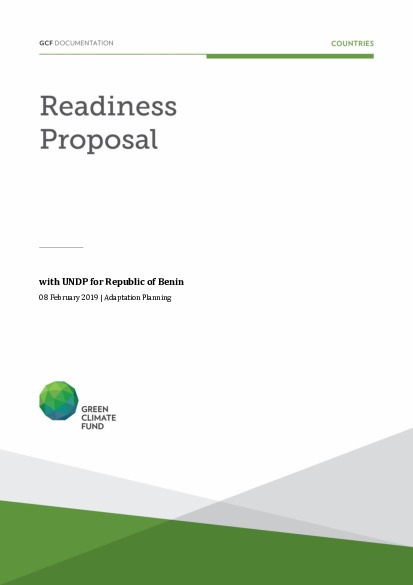 Download
Advancing the National Adaptation Plan Process in Benin
The country has made significant efforts to address climate change impacts on its development through the adoption of policies and implementation of projects. It has adopted a series of strategic documents that include the 2008 National Adaptation Programme of Action, the 2015 Nationally Determined Contribution, and the 2016-2025 Low-Emission Climate-Resilient Development Strategy. In addition, the Government of Benin has recognised the threat posed by climate change in its 2016-2021 Government Action Plan (Plan d'Action Gouvernemental - PAG) which outlines Benin's vision for a sustainable economic and social development. However, this awareness is not reflected in the priority actions of the PAG, thus demonstrating the lack of full integration of climate change into development planning.
Several barriers have also been identified in the 2016 initial Stocktaking Report and subsequent consultations of stakeholders: the insufficient quality or absence of economic analyses and indepth risks and vulnerability assessments in key PAG socio-economic target sectors, the limitations of climate change coordination mechanisms to facilitate mainstreaming and monitoring of CCA, the failure to align the M&E system for climate change with the National Statistical System; and the weak capacity of the National Environment and Climate Fund (FNEC) to support sustainable funding for CCA.
The project will seek to address these barriers through the three following outcomes:
The first outcome "Economic and climate impacts are assessed and adaptation options prioritised for effective budgeting and planning" will provide the economic and climate information needed to ensure the effective implementation of the PAG.
The second outcome "Climate change adaptation mainstreaming into budgeting processes is facilitated " will support the development and use of mechanisms and tools to facilitate CCA mainstreaming into budgeting.
The third and final outcome "The National Environment Climate Fund (FNEC) is strengthened to attract public and private funding for effective adaptation planning" will support government efforts to enhance the mobilisation of local, private and external funding for the implementation of the PAG and the financing of adaptation.
Document type
Approved readiness proposal
Organisation
United Nations Development Programme