Administrative policies of the Fund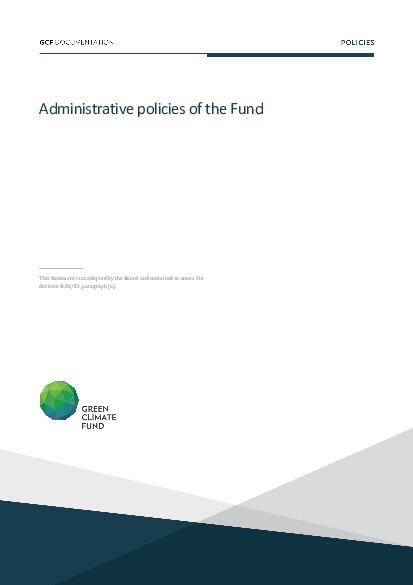 Download
English
|
PDF
|
508.47 KB
Administrative policies of the Fund
GCF's administrative policies are those necessary for the operations of the Secretariat, based on the directions provided by the Board.
These policies cover all areas that normally fall under the responsibility of the Secretariat's Division of Support Services, and are limited to the administrative business of the Secretariat, namely:
Human resources (HR);
Administrative budget;
Procurement and asset management;
Information and communication technology (ICT); and
Audit and internal controls.
The Administrative Policies will be supplemented by administrative guidelines endorsed by the Board and promulgated by the Executive Director. The Executive Director operates under the guidance of, and is accountable to, the Board that exercises oversight.
Cover date
21 February 2014
Document type
Policies, strategies, and guidelines
Table of contents
Scope and types of policies
Human resources
Administrative budget and accounting system
Procurement of goods and services
Information and communication technology
Audit
Review of the Administrative Policies
Appendix I: Code of Conduct of the Fund's Staff
Appendix II: Affirmation