Adaptation planning support for Azerbaijan through UNDP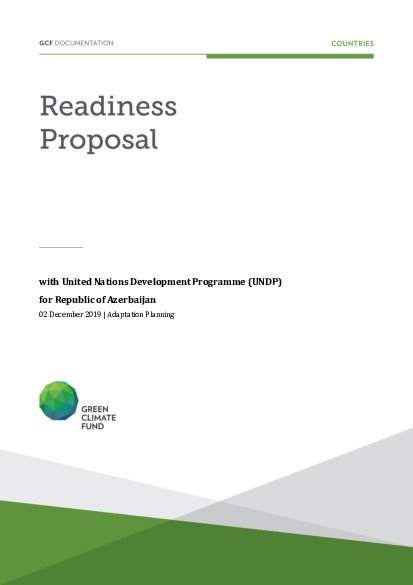 Download
Adaptation planning support for Azerbaijan through UNDP
Since the presentation of its National Determined Contribution (NDC) in 2017, the Government of Azerbaijan (GoA) has embarked on the preparation and implementation of a National Adaptation Plan (NAP). This GCF project will support the GoA to facilitate the development of the NAP and improve climate change adaptation (CCA) actions in Azerbaijan in three priority sectors identified by the Ministry of Ecology and Natural Resources (MENR) through stakeholder consultations: water, agriculture and coastal areas. The NAP readiness support objective is to increase capacity on climate resilience and adaptation in those three sectors through the implementation of actions and activities that will reduce or eliminate barriers for an effective adaptation process at both the national and local levels.
Some of the barriers identified during the stocktaking exercise undertaken in 2017 include: a) Limited data access and sharing by stakeholders in Azerbaijan; b) Insufficient institutional and technical capacity on climate change adaptation (CCA) at managerial, expert/practitioners and community levels; c) Limited mainstreaming of CCA considerations into national, regional, local and sectoral planning, budgeting and regulatory framework; d) Limited institutional coordination; and e) Limited monitoring, evaluation and analysis of past and current programmes on CCA.
To address the identified barriers, this support project will utilize GCF funds to focus on improving the CCA planning process in Azerbaijan in three main areas: (i) Improved data availability, access and sharing for decision making; (ii) Enhanced institutional and technical capacity for CCA in water, agriculture, and coastal areas; and (iii) Increased mainstreaming of CCA considerations into planning at national, regional, local levels in the priority sectors.
Cover date
02 December 2019
Document type
Approved readiness proposal
Organisation
United Nations Development Programme