Adaptation Planning support for Armenia through UNDP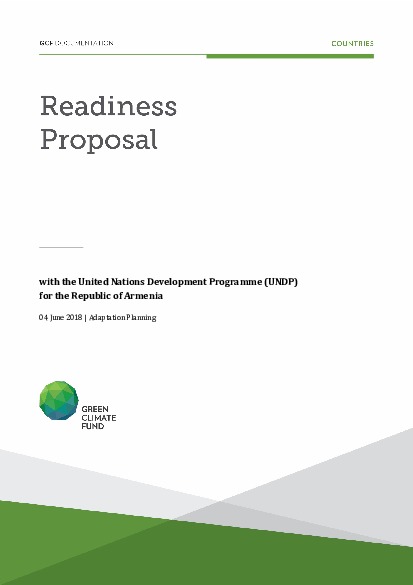 Download
Adaptation Planning support for Armenia through UNDP
The Government of Armenia launched its national stakeholder's consultations for the national adaptation plan (NAP) process in June 2016. A preliminary action plan for NAP implementation was formulated during the stocktaking exercise (annexed to this proposal) and approved by the representatives of key sectors and the Ministry of Nature Protection. The Government sees the NAP process as a key step to achieving the adaptation objectives of its 2015 Nationally Determined Contribution (NDC).
Currently, there is no comprehensive framework for adaptation in Armenia, though the NDC and the National Communications provide a preliminary assessment of adaptation priorities. To address this gap, the project aims to support Armenia with developing a national plan for climate change adaptation (CCA) that is iterative, i.e. the focus is on the process and on strengthening foundational capacities to ensure that they are institutionalized for long-term sustainability. The project aims to address the barriers identified during the stocktaking, as presented below, to support prioritization of investments in CCA in six priority sectors, and to increase the identification of finance options for the implementation of the prioritized adaptive options identified throughout this project.
With the development of a NAP process, Armenia will lay the groundwork for systemic and iterative identification of medium- and long-term risks, CCA priorities and specific activities that promote climate adaptive and resilient growth in its key sectors. Concurrently, as part of the localization of the Sustainable Development Goals (SDGs), the NAP process will contribute to the formulation of corresponding national climate-responsive indicators and targets.
Document type
Approved readiness proposal
Organisation
United Nations Development Programme