Policy on the prevention and protection from sexual exploitation, sexual abuse, and sexual harassment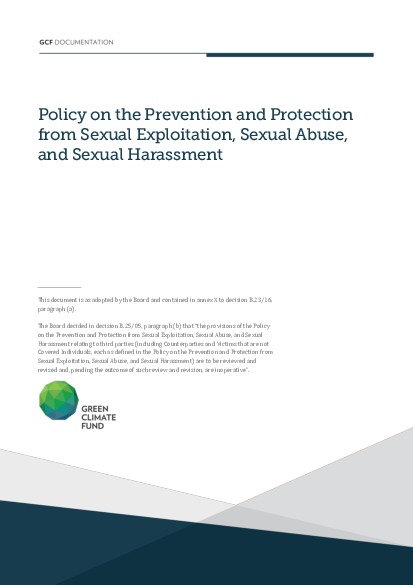 Download
English
|
PDF
|
621.95 KB
Policy on the prevention and protection from sexual exploitation, sexual abuse, and sexual harassment
GCF has zero tolerance for all forms of sexual wrongdoing including Sexual Exploitation, Sexual Abuse, and Sexual Harassment (SEAH) in all Fund-related Activities. Sexual Exploitation and Sexual Abuse violate human dignity and universally recognised international legal norms and standards and have always been unacceptable behaviour. Sexual Harassment results from a culture of discrimination and privilege, based on unequal relations and power dynamics. It creates hostile work and work-related environments, which limit the ability of affected persons to thrive and GCF to achieve its mission. SEAH has no place at GCF.
GCF recognises the imperative to prevent and respond effectively to SEAH and to protect persons, especially vulnerable individuals, and victims of SEAH in Fund-related Activities. These protections are essential to strengthen integrity and accountability throughout GCF.
The Policy on the Prevention and Protection from Sexual Exploitation, Sexual Abuse, and Sexual Harassment (the Policy) establishes GCF's zero tolerance of SEAH. It sets clear obligations for GCF Covered Individuals and its Counterparties to prevent and respond to SEAH and to refrain from condoning, encouraging, participating in, or engaging in SEAH.
Document type
Policies, strategies, and guidelines
Table of contents
Introduction
Scope
Definitions
Guiding principles
Obligations of covered individuals
Reporting and investigations
Protection and remedies
Policy implementation, monitoring, reporting, and review
Effective date